PROMOTION
18% discount for 18th Compendium CE birthday
We are very pleased to announce that in the month of December 2018 Compendium CE celebrates its 18th birthday :)
These 18 years was an uncommon time, in which our company and the entire IT services market in Poland evolved very quickly. During this time, we have completed over 13 000 IT trainings for around 56 000 participants. During these 18 years our offer has grown significantly - we currently cooperate with 44 leading manufacturers in the IT industry and we offer 1115 trainings. During this period we have conducted trainings in 23 different countries in Europe and Asia, and also received many awards and prizes. You can find more interesting statistics on our birthday infographics, which we have posted at the bottom of this page.
Dear customers
thanks to you we have achieved this age and thanks to you we are still developing!
Thank you!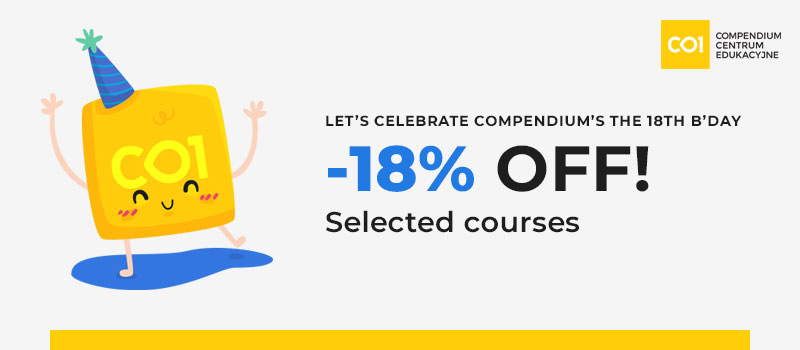 Therefore our birthday and in thanks to our clients, we decided to celebrate our 18th birthday with a special promotion - throughout December a discount of 18% applies to all trainings from our offer (with exclusiion Oracle, HPE i Q/P Management Group). In trainings purchased in December with an 18% discount, you can participate in a convenient time until June 30, 2019! To use the promotion please enter the password "Happy Birthday" during the registration process.
Choose your training with a discount >>