SECO-Institutes authorized training are now available at Compendium CE
Compendium partners with SECO-Institute to deliver Dark Web, SOC Analyst, Data Protection and Crisis Management certification trainings in Central and Eastern Europe
Furthering its dedication to provide the Central and Eastern European market with the most up-to-date and high-quality trainings, Compendium CE is pleased to announce its new partnership with the SECO-Institute. Through the new partnership, Compendium CE will offer leading specialized cyber security, data protection and crisis management trainings to Central and Eastern European professionals, enabling them to attain in-demand international certifications in their field of specialization.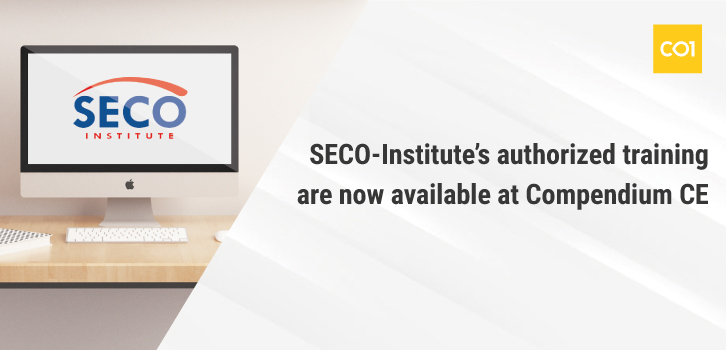 Compendium CE – SECO-Institute partnership
In the framework of this partnership, Compendium CE will add six SECO certification training to its portfolio https://www.compendium.pl/trainings/secoinstitute/. Each training prepares for an internationally recognized SECO certification exam:

• S-DWF (Dark Web Foundation Title)
• S-ITSE (SOC Analyst IT Security Expert Title)
• S-PDPF and S-PDPP (Privacy & Data Protection Foundation and Practitioner Titles)
• S-CMF and S-CMP (Crisis Management Foundation and Practitioner Titles)

Bartosz Niepsuj, Vice President of Compendium CE, is excited about the new partnership:

"Through our cooperation with SECO-Institute, we can offer training and qualification opportunities that are unique on our region's cyber security education market. IT Security Professionals as well as law enforcement will benefit from a foundational understanding of the Darkweb that harbors hidden threats and criminal activities. With the SOC Analyst training we aim to help solve the shortage of skilled analysts in cyber defense teams, by immersing students into the processes, data flows, models and capabilities of a Security Operations Center (SOC). The training was developed by a SOC Manager of a Dutch Bank and the creator of the SOC Maturity Model. It provides students not only with a solid understanding of the working of a SOC, but also hands on experience with a large dataset for the exercises and ending with a capture the Flag Event, a one – day experience in a virtual SOC. We also anticipate great demand for the Data Protection and Crisis Management training courses. These trainings are based on European Union laws and regulations, and organizations are aware that legal compliance is key to improving their resilience and competitiveness."

"Compendium CE is very well positioned to deliver these trainings to its students and customers", says Wim Stoffelen, Director of Partnerships and Alliances at SECO – Institute. They have an outstanding record of providing quality security trainings to high demanding students and clients. This is backed up by the long lasting relationships with their existing partners and multiple awards of excellence received over the years. In the contacts, Bartosz and his team have proven to be very focused on quality and added value, and maintaining very short lines directly with their operations department, team of trainers and students. This we believe is key to delivering on promises made towards clients and likely one of the main reasons they have been successful so consistently over the last 20 years"
About the SECO-Institute
The SECO-Institute's mission is to educate competent security and continuity professionals who can improve their organizations' resilience in today's high-risk information economy. The SECO Institute's Cyber Security & Governance Certification Program provides job-specific trainings and internationally recognized certifications from beginner to expert level in seven domains of security and continuity, including information security management, data protection, crisis management and IT security.
About Compendium CE
With its diverse portfolio of IT, telecommunications and project management trainings, Compendium CE works to address the competence needs of companies in the IT industry. In a mission to enhance companies' digital competitiveness by equipping employees with the latest skills in IT and telecommunications, Compendium CE has cooperated successfully with several leading international training providers, and is looking forward to a similarly fruitful partnership with the SECO-Institute.

Read more about the SECO certification courses offered by Compendium CE: https://www.compendium.pl/trainings/secoinstitute/