Compendium CE becomes a Google Cloud Authorized Training Partner
Compendium CE becomes a Google Cloud Authorized Training Partner bringing more technical training to Poland and Central and Eastern Europe.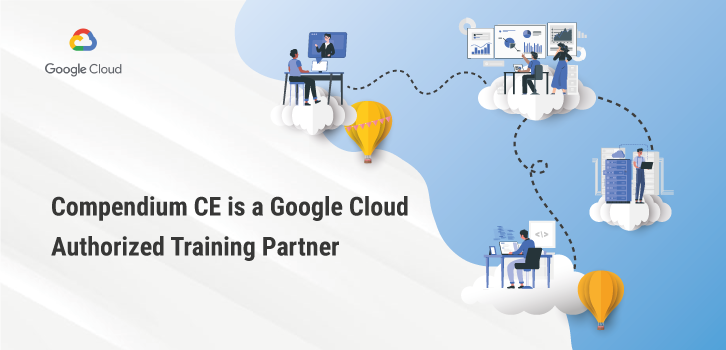 Compendium CE is a training company that offers the most up to date and high-quality training courses for advanced information and communication technologies in the Central and Eastern Europe region. With its diverse IT training portfolio: security, networks, telecommunications, cloud, open source and project management, Compendium CE works to address competence needs of companies from CEE region and their employees under ICT technologies and products. In a mission to enhance companies' digital competitiveness by equipping employees with the latest skills in ICT, Compendium CE has cooperated successfully with dozens leading international training providers.
Google Cloud provides organizations around the world with leading infrastructure, platform capabilities and industry solutions. Google Cloud delivers enterprise-grade cloud solutions that leverage Google's cutting-edge technology to help businesses of all sizes operate more efficiently and adapt to changing needs, giving customers a foundation for the future.  Businesses from more than 150 countries trust Google Cloud to modernize their computing environment for today's digital world.
As part of its engineering tools, Google Cloud also provides training, and certifications programs dedicated to all those who want to explore and enhance their skills with Google Cloud technology.
Google Cloud training builds the cloud skills developers and engineers need to elevate their career and solve the challenges of the future. The training programs come with certifications to validate expertise and show how the trainee can transform businesses by design, develop, manage, and administer application infrastructure and data solutions on Google Cloud.
87% of Google Cloud certified users feel more confident in cloud skills.
30% of Google Cloud certified users took on more responsibility or leadership roles at work.
(Findings from a survey conducted with Google Cloud certified individuals in May 2019 by an independent third-party research organization.)
Google Certified Professional Cloud Architect is the highest-paying certification of 2019
(Based on survey responses from the Global Knowledge 2019 IT Skills and Salary Report of North American IT departments.)
"We are very happy starting to work with Google Cloud, leader in cloud technology as well as leader in training and certifications programs dedicated to all who want to boost their career, gain industry recognition, and extend their own value on the growing market of cloud's experts. Professional Cloud Architect, Professional Cloud Developer or Data Engineer are currently one of the most demanded and wanted specializations among IT specialists. Current global situation with COVID-19 highlighted us all, that without a public cloud infrastructure, services, applications and as well as professionals and experts watching over it. Many so commonly used today tools at offices and/or at home, as videoconference, collaboration software would be inaccessible to us. Looking at the present and future we should not only think about, but above all act in the Cloud!" - says Bartosz Niepsuj, Vice President of Compendium CE.
"As an important step in building up Google Cloud international training partner network, we are pleased that we have Compendium CE on board. I'm convinced that our joint efforts to promote Google Cloud training and certifications programs will bring the first results very soon, and first training participants delivered in Poland and other countries from CEE region by Compendium CE will confirm their gained knowledge and skills by gaining also Google Cloud certifications." – said Sebastian Trost, Google Cloud Training Business Leader DACH & CEE
Full offer of available Google Cloud courses in Compendium CE: https://www.compendium.pl/trainings/googlecloud/