Compendium with the status of Aruba Authorized Training Center (Aruba ATC)
We are very pleased to inform you that Compendium received the status of Aruba Authorized Training Center (Aruba ATC), thanks to which we can provide authorized Aruba trainings in Poland and the entire EMEA region (Europe, the Middle East and Africa).
Aruba, a Hewlett Packard Enterprise company, is a leading provider of next-generation network access solutions for the mobile enterprise. The company designs and delivers Mobility-Defined Networks that empower IT departments and GenMobile, a new generation of tech-savvy users who rely on their mobile devices for every aspect of work and personal communication. To create a mobility experience that GenMobile and IT can rely upon, Aruba Mobility-Defined Networks™ automate infrastructure-wide performance optimization and trigger security actions that used to require manual IT intervention. The results are dramatically improved productivity and lower operational costs.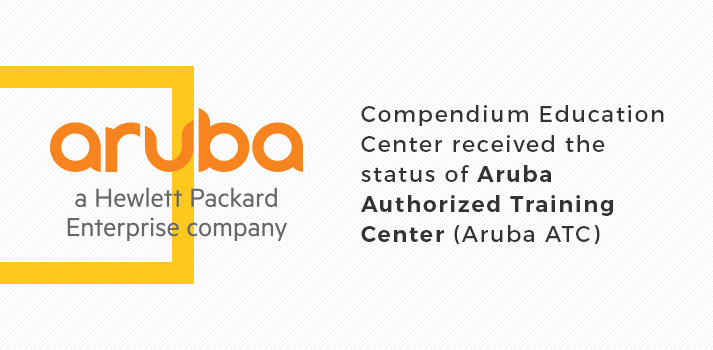 The Aruba training offer at Compendium CE includes authorized courses on products and solutions such as:
switched networks
WLAN networks
network management system
NAC system
The Aruba trainings in our offer have been divided into three subgroups:
For more information, please visit http://www.arubanetworks.com. If you are interested in Aruba training, please contact us using the contact form below.